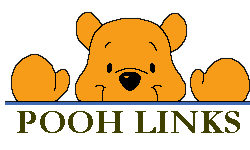 Hello everyone,
We have tried to provide the best of Pooh web-places on this page for all you Pooh lovers....
All the links on this page have been personally visited by us and we assure you they are worth a visit. The order of the links does not represent our preference. If you find any site that shouldn't be here or has any offensive contents or any link that is not working, please let us know...We will be happy to remove the link from this page...
If you would like us to link back to your site, you can write to us at umatanu@hotmail.com
| | |
| --- | --- |
| | Andrea's Pooh website is amazing! Loads of cool stuff. Lovely backgrounds sets, Pooh history and heaps and heaps of Pooh stuff to print! Do visit! |

| | |
| --- | --- |
| | A classic Pooh page with very nice graphics. Offers web page design sets, post cards. calendars and more. |

This is a wonderful web site with loads and loads of Pooh fun for your desktop and web pages. Has very good wallpapers, greeting cards, web graphics, Pooh animations, a message board and more.

ENJOY!!!
| | |
| --- | --- |
| | We really like this web page. Its so cutely done. Has got information on A.A Milne, Pooh votes, poetries, quotes and very good graphics. I am sure you will love it... |

A must-visit site for all Classic Pooh lovers. This happens to be our very good friend Kylee's web page, she happens to be a classic Pooh lover. Lots of interesting stuff on these pages...She's got Pooh books for sale, Biographies, Pooh Essays and Articles , Foreign Translations (Pooh Books) and lots more!!!!

And the best part is: you can be a Pooh collector and trade Pooh merchandise with other Pooh collectors...You have to visit this site!!!!

| | |
| --- | --- |
| | A very nice web-page. Lots of fun here...Pooh games and Pooh quiz and you can also send personalised Pooh e-cards...Also, contains Pooh history and Pooh stories...Information on "Tao of Pooh"....Enjoy!! |

| | |
| --- | --- |
| | My dear friend Jen's Pooh page....She's got some lovely graphics out there, so don't miss it for the world! |

| | |
| --- | --- |
| | A lovely site to visit. You get your own Pooh e-mail address here!!! Send your friends a Pooh Card, check out the picture galleries, learn about the characters and lots more!! Check it out! |

| | |
| --- | --- |
| | This site has all the Pooh links you ever needed. A lovely web site with heaps of information. Do visit the Humpherlinks! |

(More to come soooon!!)